Media Release
New Zealand Newcomers Network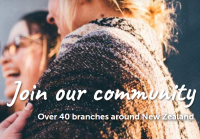 New Zealand Newcomers Network turns 10!
New Zealand Newcomers Network is a social network in the original sense of the word. It started with one small group in Nelson and now it is a national organisation with 36 allied regional Newcomer Networks around the country, all with the aim of helping people adapt to new communities
Marika and family are a great example of the role the network has played. They moved to regional New Zealand from Sweden a few years ago. Marika was pregnant and was finding it hard to connect with others when she attended a workshop for newcomers. There she met Kumiko, a young woman from Japan and Jana, another young woman from Slovakia who were in a very similar situation. Today they say that it has made all the difference. Marika says she is not sure that she would still be in New Zealand if it were not for that encounter through her local Newcomers Network.
Andreja Phillips, the Manager of New Zealand Newcomers Network, says 'our extremely transient modern society makes it very hard for people new to the country, to our cities and regions, to build a sense of belonging – it can be very lonely. It's not just migrants from overseas – Kiwis moving around New Zealand come up against similar challenges. Newcomers Networks play a vital role providing enriching connections, events and other activities to help people feel at home in their new community. Sometimes it's things like this which make the difference between people successfully settling down, or becoming isolated, not being able to integrate and becoming unwell.'
Since the network was established 10 years ago thousands of events and activities have been organised – the feedback has been extremely positive about the role the network plays in helping people. Alex and Tanya from South Africa sum it up perfectly: "The network is full of wonderful people and is a great place to be. We are very happy to be part of this community. " And Kay from Christchurch remembers: 'It took me a couple of months to pluck up the courage to go (to an event), and I have to admit I found it really hard walking into the cafe at first. But I was warmly welcomed and accepted and after a few weeks I started to feel like I belonged. I have made some lovely friends and have never been happier with my life.'
However, like many other not for profit community organisations, the New Zealand Newcomers Network is under threat from loss of funding. Andreja says: "we think what we do makes a huge difference to the individuals and communities we support, and we would really like to carry on doing it! Right now we already rely heavily on the free time and endless energy of our countless volunteers, but we do need more funding. We are putting out a call to anyone who has experienced being a newcomer and thinks this sort of service is valuable, or who would like to be a community partner with a dynamic organisation with a strong community profile. "
New Zealand Newcomers Network would like to be here still doing a great job in 10 years' time. To support and donate go to https://givealittle.co.nz/org/newcomers or go to www.newcomers.co.nz or email info@newcomers.co.nz