Article
New Zealand Newcomers Network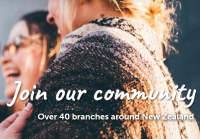 New Zealand Newcomers Networks – www.newcomers.co.nz – are open and welcoming to all newcomers to communities around New Zealand, whether from within or outside of New Zealand.
You may ask why does the NZ Newcomers Network Alliance matter? And why is it worthwhile joining a Newcomers Network?
Migration – international and domestic – and settlement into a new community pose many challenges. Practicalities like finding adequate employment, housing, schooling and medical care are all time consuming and can be difficult to achieve. And these are not the only aspects important to physical and mental wellbeing in this phase.
Ellie Baker in her 2014 book [1] covers the ins and outs of the emotional aspects of Migration. On page 38 she points out the importance of support networks in the newly chosen community, wherever this may be: "Whether you realised it or not, you had a support network in your homeland…In your adopted country it is equally important to have a similar support network. You can create this network in a variety of ways, but you do have to get out there and create it. It's not going to come to you."
Newcomers Network offer an easy and straightforward way to connect with a 'new' social network and joining a Network is a great way to start creating a support network.
There are many benefits gained from positive social connection – from sharing experiences with others in a similar situation, to making friends, finding connection and a sense of belonging in a new community during the early settlement phase.
The sort of interaction that happens in Newcomers Network creates both linking and bridging networks. Newcomers Networks as bridging networks connect people across many different groups of people. These are networks that are far more effective than just average bonding networks. Bridging networks build social capital and cultural competence. This was expertly presented by Prof. Dr. Jacques Poot at Immigration NZ's 'Settlement Summit' held in Wellington on 7/8 April 2016. [2]
Creating bridging networks, Newcomers Networks offer the opportunity for connections across age groups, gender, ethnic groups and also between migrants and Kiwis. This encourages diversity, intercultural dialogue and provides important learning opportunities in cultural competence. Such networks are paramount for social integration and cohesion in an ever more transitory society.
Social science research in recent years has clearly shown that social connection is very important for human wellbeing.
Robert Waldinger, for example, of the longest running study on Happiness at Harvard University (https://www.ted.com/talks – search 'Robert Waldinger') – found the three most important things for human happiness and wellbeing are:
good relationships keep us healthier and happier
social connection is really good for us and,
the experience of loneliness is toxic for our human body systems
Another study – by clinical psychologist Susan Pinker, entitled 'The Village Effect: Why Face-to-Face Contact Matters' (in NZ Listener, 13 August 2015)[3] – (https://www.ted.com/talks – search 'Susan Pinker') – shows that social integration with a regular and diverse group of people is paramount for a long and healthy life. Pinker draws on psychotherapy, neuroscience, human geography and even animal behaviour to show that face-to-face human contact is vital for health, happiness and physical and psychological resilience.
These findings match anecdotal evidence provided by our regional Network coordinators. One of our network coordinators who worked for Public Health, for example, said that she 'sees the mental health of people improved when they feel connected to their community'.
The social connection work of the Networks in the NZ Newcomers Network Alliance really matters.
And, with our nation's current focus on mental health and the government's financial pledge to support, improve and increase mental health services in New Zealand this is the perfect time to embrace and support our work for the wellbeing of newcomers to our communities.
[1] Baker, E. (2014). The Emotional Challenges of Immigration – Strategies and stories of those who stayed. Smeaton Publishing, Pokeno, New Zealand.
[2] Poot, J. (2016). Bridging and bonding: the role of social networks in labour market outcomes for migrants. In New Zealand Immigration Settlement Summit: Collaborating for outcomes. Conference held at Te Papa, Wellington, New Zealand.
[3] Pinker, S. (2015). The Village Effect – Why Face to Face Contact Matters. Atlantic Books, London.