News
New Zealand Newcomers Network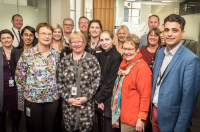 NZ Newcomers Networks are very pleased with the progress of the NZ government's Welcoming Communities Initiative. The Ministry of Business, Employment and Innovation (MBIE) is in charge of implementing the pilot project. To find out more about the Initiative more generally visit: Welcoming Communities NZ.
NZNN National Manager Andreja Phillips has been on the Advisory Board since last year and has enjoyed the opportunity to input into the development of the Welcoming Communities Standard.
The 5 pilot regions are currently busily working on their action plans. The Ashburton region has recently published its very elaborate plan, which reads as a very comprehensive manual for action. The Mid Canterbury Newcomers Network is also an important player in its delivery. If you would like to find out more about what's happening in the Canterbury region and read Ashburton's action plan head to The Welcoming Communities Canterbury.