Communication English Group
View all Dates
Tue 07 Sep 2021, 06:30 pm - 6:30pm
The Hangout
The Mall - opposite Paper Plus (Cromwell Youth Facility)
Cromwell
Tue 14 Sep 2021, 06:30 pm - 6:30pm
The Hangout
The Mall - opposite Paper Plus (Cromwell Youth Facility)
Cromwell
Tue 21 Sep 2021, 06:30 pm - 6:30pm
The Hangout
The Mall - opposite Paper Plus (Cromwell Youth Facility)
Cromwell
Tue 28 Sep 2021, 06:30 pm - 6:30pm
The Hangout
The Mall - opposite Paper Plus (Cromwell Youth Facility)
Cromwell
Tue 05 Oct 2021, 06:30 pm - 6:30pm
The Hangout
The Mall - opposite Paper Plus (Cromwell Youth Facility)
Cromwell
Tue 12 Oct 2021, 06:30 pm - 6:30pm
The Hangout
The Mall - opposite Paper Plus (Cromwell Youth Facility)
Cromwell
Tue 19 Oct 2021, 06:30 pm - 6:30pm
The Hangout
The Mall - opposite Paper Plus (Cromwell Youth Facility)
Cromwell
Learn English, Cultural Event
Wheelchair Access, Accessible Toilets, Mobility Parking
$5 per session or $20 for 6 if paid in advance
Sharon - Newcomers Co-Ordinator 022 111 3083 or email cromwell@newcomers.co.nz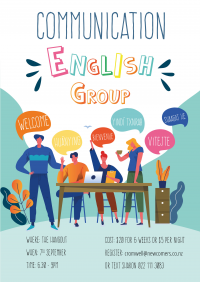 Are you trying to navigate living in a new country and learn a new language?
Our six week Communication English Group is designed to help you immerse yourself into a new country (town).
You will learn about the community you live in and gain confidence in using your English in everyday situations. Our group is interactive and run by volunteers.
We look forward to meeting you and learning all about you, whilst sharing some insight into the Kiwi way of life.
The group will start on 7 September from the Hangout in the Mall (Youth Facility) from 6.30pm- 9pm. Cost is $5 per session or if you pay in advance $20 for 6 sessions.
To book email: cromwell@newcomers.co.nz
Event Dates
The Hangout
Cromwell
The Mall - opposite Paper Plus (Cromwell Youth Facility)

Tue 07 Sep 2021, 06:30 pm
Tue 07 Sep 2021, 06:30 pm
$5 per session or $20 for 6 if paid in advance
The Hangout
Cromwell
The Mall - opposite Paper Plus (Cromwell Youth Facility)

Tue 14 Sep 2021, 06:30 pm
Tue 14 Sep 2021, 06:30 pm
$5 per session or $20 for 6 if paid in advance
The Hangout
Cromwell
The Mall - opposite Paper Plus (Cromwell Youth Facility)

Tue 21 Sep 2021, 06:30 pm
Tue 21 Sep 2021, 06:30 pm
$5 per session or $20 for 6 if paid in advance
The Hangout
Cromwell
The Mall - opposite Paper Plus (Cromwell Youth Facility)

Tue 28 Sep 2021, 06:30 pm
Tue 28 Sep 2021, 06:30 pm
$5 per session or $20 for 6 if paid in advance
The Hangout
Cromwell
The Mall - opposite Paper Plus (Cromwell Youth Facility)

Tue 05 Oct 2021, 06:30 pm
Tue 05 Oct 2021, 06:30 pm
$5 per session or $20 for 6 if paid in advance
The Hangout
Cromwell
The Mall - opposite Paper Plus (Cromwell Youth Facility)

Tue 12 Oct 2021, 06:30 pm
Tue 12 Oct 2021, 06:30 pm
$5 per session or $20 for 6 if paid in advance
The Hangout
Cromwell
The Mall - opposite Paper Plus (Cromwell Youth Facility)

Tue 19 Oct 2021, 06:30 pm
Tue 19 Oct 2021, 06:30 pm
$5 per session or $20 for 6 if paid in advance